Our Origins
Founded by Oso Martin, Free Geek launched on Earth Day 2000 as part of a community-wide public event at Pioneer Courthouse Square in downtown Portland. On September 1, 2000, we opened the doors to our facility on SE 10th Avenue as a recycling and reuse dropoff for electronic waste.
In January 2001, The Oregonian ran an article advertising our free computer program for volunteers, which immediately became so successful that we had to start a waiting list.
Free Geek takes in retired and outdated hardware. We reuse as much technology as we can by giving it a new lease on life through one of our many community programs. These programs provide volunteers, nonprofits, and community change organizations with free, refurbished technology. 
Organizational Structure
In the earliest days, Free Geek was entirely volunteer-run and decisions were made democratically. As the organization grew, it remained consensus-based, with policy decisions made by a group of volunteers and staff called the council. In time, volunteers became staff members who ran the organization as a collective, supported by a Board of Directors.
Eventually, Free Geek grew so much that consensus decision making was no longer feasible. The board introduced a more traditional nonprofit model, first experimenting with a triad of directors, before hiring an Executive Director. Dan Bartholomew joined Free Geek as Executive Director in 2016.  
Free Geek Culture and Programs
Since the beginning, Free Geek has curated its own unique language, cheeky in tone, much of it a nod to the Linux community, and hacker and nerd culture. The computers we give away are not just computers — your computer is a Freekbox (plural Freekboxen). Portland is not simply the original location of Free Geek — we are the Mothership! Don't be afraid to ask a staff person to explain if you hear a new or unfamiliar phrase while visiting us.
While we have never wavered from the original concept of Free Geek—solving the digital divide through e-waste recycling and reuse—our programs have been designed and refined over time with the support of many volunteers and staff. In the first 10 years, everyone collaborated in small work groups to create and implement policy.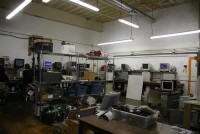 Initially, new volunteers were engaged primarily to assist with computer receiving, sorting, and recycling. The computers were first disbursed in exchange for 12 hours, then 18 hours, and finally our official "24 hours" of volunteer work. This became known as the "Adoption Program." Meanwhile, only a small group of technically savvy volunteers collaborated to build the computers we gave away. It quickly became clear that a few people couldn't build all of the needed computers—to increase the pool of trained builders, the "Build Program" was born. In 2016, these were combined into the single Volunteer Program, where volunteers could choose to work in either area—recycling or reuse—to earn their computer. 
As we adopted newer and more efficient technologies for refurbishment, volunteering in reuse was phased out to create space for more hands-on hardware education resulting in the launch of the TECHS Academy in 2018. TECHS Academy was an in-depth, series-based educational offering that complements the single session classes in our Education Program.
Because of the need for digital devices for those who weren't able to volunteer at Free Geek specifically, we created a range of programs to help meet the need of those who are currently separated by the digital divide. These programs include Plug Into Portland, Organizational Grants, Community Grants, and Gift a Geekbox. With these programs meeting the need of our community, Free Geek has expanded to fill every inch of our 22,000 square-foot home (that's over half an acre!) and grown into a community education hub, expanding our classes, internships, outreach programs, and free technology donations to nonprofits to our ongoing commitment to sustainable reuse and recycling. 
We have grown from 3 staff members to almost 50. We are now recognized nationally and internationally for our work, and proudly serve as a member of the Digital Inclusion Network, a regional working group and advisory board focused on digital equity.
Since our founding, we have diverted over 2 million items from landfills, granted over 75,000 technology devices to nonprofits, schools, community change organizations, and individuals, and plugged over 5,000 classroom hours from Free Geek learners. From our humble beginnings to today, we've stayed true to our core mission. As we continue onward, we hope to see bigger and bolder opportunities for service unfold.

Our Amazing Volunteers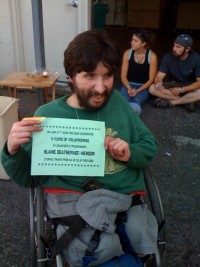 Over the years, Free Geek has served nearly 150,000 community members, through our donations program, volunteer program, the store, and partnerships. Among them, we've received help from more than 35,000 volunteers. Free Geek volunteers have formed the backbone of our organization. They help us by disassembling parts to be recycled, building computers, teaching others, and offering perspectives that shape Free Geek's daily operations. Whether they're eight years old or 80, they find their place here!
Free Geek wouldn't be possible without volunteers.
There's one special volunteer who is essential to our history, and culture, as an organization. Blaine Deatherage-Newsom was a Free Geek volunteer extraordinaire and build instructor—helping others learn about problem-solving, patience, empathy and how to put together a working computer. Blaine served Free Geek's community for 11 years, touching the lives of hundreds of other volunteers over thousands of hours. He loved basketball, chess, lemon drops, and dogs, and was likely the kindest and friendliest man on the planet. 
Our Future
Free Geek continues to expand our services throughout the Portland metro, to include everyone in our digital future. We hope to serve for another twenty years and on.