Repurposing Your Technology Securely, Ethically, and Sustainably
Why is donating beneficial to your company?
Corporate Social Responsibility is crucial in today's business world, and partnering with Free Geek allows your company to commit to social accountability - both locally and globally. Your CSR and PR Departments can proudly state that you support Free Geek's mission of Bridging the Digital Divide and technological sustainability for the better of the planet. As a Corporate Partner you:
-Help to create a digitally connected community
-Not only help refurbish technology, but give back to our community 
-Provide access to low or no-cost computing devices and training
-Help students, low-income families and charitable organizations access technology that they otherwise could not afford
-Do your part to keep hazardous industrial e-waste out of landfills or worse
-Reduce the barrier between those who have access to technology and those who don't!
What does the Free Geek model look like?
Free Geek runs on a model that points two problems back at one another to inspire innovative solutions. Below you will see the process of our organization from receiving technology, to refurbishment or recycling.
Is your data safe with Free Geek?
At Free Geek, we take care to ensure the safety of your data-containing devices. Our data security promise extends to desktops, laptops, smartphones, tablets and all other data-containing devices. Why choose Free Geek for data sanitization and destruction? -Data-bearing devices we receive are routed to our secure data area for data destruction. -National Institute Standards and Technology (NIST) SP800-88 data sanitization. -Strict adherence to the International Secure Information & Governance Management Association (i-SIGMA) bylaws and i-SIGMA membership code of ethics.
What can your company donate?
Free Geek accepts nearly everything that plugs in or uses electricity, including smartphones, tablets, e-readers, video systems, and much more. We are also a proud participant of the Oregon E-Cycles program, which guarantees convenient recycling of computers, monitors, TVs, printers, keyboards, and mice for Oregonians and many small businesses. Currently, we are most in need of laptops to provide for people in our community marginally affected by COVID-19.
What does the donation drop-off process look like?
We've made donating simple, easy and safe with the following steps:
- We are accepting donations (during limited hours) at our facility (1731 SE 10th Avenue). We will have collection bins set outside the warehouse entrance. Please be prepared to unload your own vehicle and form a line if needed. For the safety of our community, we ask that you wear a face covering and maintain a 6-foot distance from staff and other donors at all times. Staff will be available just inside (or at the open warehouse door). When filling out the form below, please insert best times to drop off your technology so we can best accommodate your need.
Need help transporting your donation? 
Free Geek offers Free pickups to qualified corporate technology donors to learn more about scheduling a pickup or to start the process, please fill out the form here.
Will your employer receive a donation receipt?
We are happy to email you a receipt confirming your donation for tax purposes.
Testimonials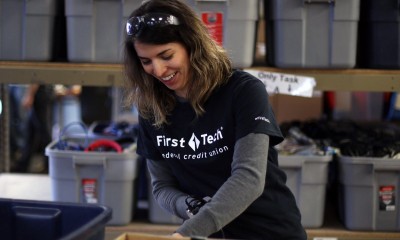 "We are so proud to be able to partner with Free Geek and their Plug into Portland program and to help empower the next generation to learn, grow and thrive." 
Nicole Frisch, Community Engagement Director, First Tech Federal Credit Union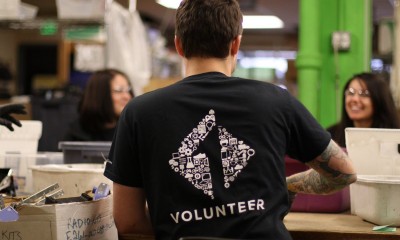 "People helping people, that's what we do. We are helping Free Geek to help the community." 
Tim Spencer, Desktop Support & Fee Geek Volunteer / First Tech Federal Credit Union