Hardware Grants temporarily closed
Due to COVID-19 Free Geek does not have the capacity to fulfill hardware grants at this time, and our Hardware Grants program is on hold until further notice. Grant pickups are temporarily closed. We will be updating this page as the situation evolves.
Is your nonprofit in need of technology to help meet your mission?
Free Geek's Hardware Grants program connects qualifying nonprofits with free and low-cost refurbished technology. We serve over 150 different organizations every year. 
Eligibility requirements
Please read this criteria thoroughly to determine if our Hardware Grants program can appropriately serve your organization's needs.
Must be a 501c(3) nonprofit organization, under fiscal sponsorship of a nonprofit, or a public entity. 
The organization must be located in Oregon, Washington, California, Idaho, Nevada, Wyoming, or Montana.
Laptops are available to eligible organizations in Oregon and Clark County, WA only. 
Must comply with Free Geek anti-discrimination policy.
Must dispose of the hardware in an environmentally responsible manner when it has reached the end of its lifecycle.
Must be able to pick up the hardware in person from Free Geek's office in Portland, Oregon. Grants are provided unboxed. We do not ship technology to grantees. Please note that shipping your granted technology voids the tech support warranty.
We ask that grant recipients cultivate a positive relationship with Free Geek, including posting about grants received on your newsletters and social media, to help raise awareness about our program.
Eligible organizations may not submit multiple applications within a grants cycle.
Eligible organizations must wait 6 months after the fulfillment of a grant to reapply.
Who is not eligible?
Individuals are not eligible for grants. Does your client need a computer? 
We rarely make grants to international organizations. This is due to difficulty in verifying the organization's status and responsible recycling when the equipment becomes obsolete. Check out the World Computer Exchange or TechSoup for international alternatives.
We do not make grants to 501(c)4, 501(c)5, 501(c)6 or 501(c)7 organizations.
"By refurbishing and granting electronic equipment, Free Geek allows nonprofits like the one where I volunteer to more efficiently carry out their missions... Free Geek helps us maintain a very low-overhead operation, with funds spent on programs, not on computers."
Michael Hale, volunteer at Portland Taiko
What we grant
Free Geek makes in-kind grants of refurbished electronic equipment. The computer hardware that we grant is used and come to us via donations made by individuals and organizations in our community. It is then tested and built by our staff and volunteers.
We primarily grant complete PC computers which come installed with Linux Mint as an operating system. These systems are excellent for typical office tasks, such as word processing and browsing the web. 
Approved grant recipients are eligible for a 20% discount in The Free Geek Store.
Computers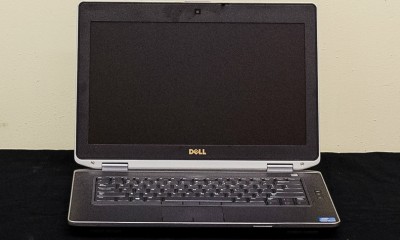 Laptop PCs
(Oregon/Clark County Only)
2011 i3 or newer processor
4GB of DDR3 RAM
250GB or larger hard drive
Optical (CD or DVD) drive
Wireless networking (WiFi) ability
Minimum 50% original battery capacity
Operating system:
Linux Mint for free
Windows 10 Pro to qualifying organizations for a fee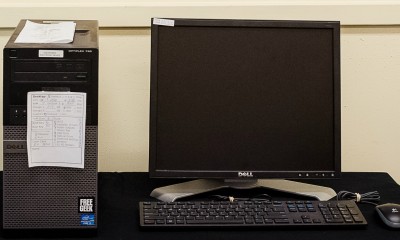 Desktop PCs
i3 processor between 2.4 and 3.2GHz speed or faster
4 GB of DDR3 RAM
250GB or larger hard drive
64-bit system
DVD R/W optical drive
On-board video
Onboard Ethernet (not WiFi) - wireless adapters may be available for purchase in the Free Geek Store
Limited upgrades are available for a fee
Monitor, mouse, keyboard, power cables provided
Operating system:
Linux Mint for free
Windows 10 Pro to qualifying organizations for a fee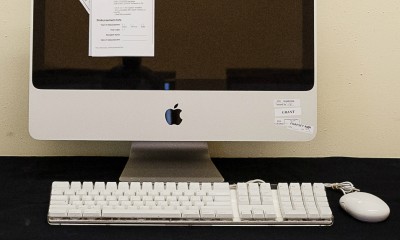 iMacs 7,1-9,1 (2007-2009 Mac all-in-one desktops)
Specification varies depending on availability
2.0-2.66 gHz or greater Core 2 duo CPU
4 GB DDR2 or DDR3 RAM
250GB HARD Drive
Optical (CD or DVD) Drive
Wireless networking (WiFi) ability
Mac OS 10.11 installed (not compatible with most current version of Mac OS)
20-inch screen or bigger
Built-in webcam
Keyboard, mouse, power cable provided
Now Offering Windows 10 Pro
Windows 10 Pro is now available on grant PCs to qualifying nonprofits for a fee. Please note that only verified 501(c)3 nonprofits and academic institutions that meet Microsoft's criteria are eligible for Windows.
Custom requests
Free Geek can provide 1 printer and 1 router on request (when supply is available). 
We can often provide grants of other hardware if available. Special requests are reviewed on a monthly basis. Please be specific in your application about the type and number of items you need.
The quantity of technology available per grant cycle changes seasonally in relation to our supply.
We are limited in our ability to grant non-functioning or untested equipment. Please feel free to apply and specify your exact needs. We will work with you to determine eligibility.
Technical support
Granted computers come with a one-year warranty and access to technical support at our location in Portland, Oregon. Exceptions: 
Free Geek provides technical support for Linux hardware and software.
For Macs and for PCs with Windows installed, tech support covers hardware. It does not cover software.
Shipping your granted technology voids the tech support warranty.
Application deadlines
Applications for our standard granted items are reviewed on a rolling basis. You can expect to hear back from us on your application status within 3-4 weeks. For time-sensitive grants, please apply at least 4 months in advance to allow time for processing your application and fulfilling your grant. We cannot guarantee that grants will be fulfilled by a requested date.
We can often provide grants of other hardware, if available, and special requests are reviewed monthly. Please apply by the last Wednesday of the month to be considered in the next month's review cycle.
Download the full application
Need a full preview? Download the full hardware grants application. Note: You must apply online. Paper applications are not accepted.  
Apply Online
Have you thoroughly read this page, and found that you're eligible for a grant? Continue on to the hardware grant application.
Need 1-on-1 help with your computer?
Free Geek offers Community Tech Appointments! Pair up with a friendly and knowledgable volunteer mentor to learn all about Linux and computers. All Hardware Grant recipients are welcome. Register today!
"As a community organizer, I have been lucky to work with many nonprofits. The need for accessible technology for outreach and communicating is paramount; phone banks can't happen without laptops. From my time in Medford fighting for rural communities, to Longview working against a proposed coal terminal, Free Geek has played a role. Those little Lenovos are a lifesaver." 
Colin Kerosky, Community Organizer