Interested in donating technology from your employer to Free Geek? 
Free Geek's mission is to sustainably reuse technology, enable digital access, and provide education to create a community that empowers people to realize their potential. At the turn of the millennium, FREE GEEK was founded to create digital equity through environmental sustainability. Free Geek offers volunteering and educational opportunities to the community and is a 501(c)3 non-profit, tax-exempt agency.

We at Free Geek are doing everything we can, with rapidly diminishing resources, to carry out our mission, now more than ever.
Our goal is to divert technology that would otherwise be recycled (or thrown away), and give it back to our community (at no or low cost) through one of our many community programs.
The need for our services has never been greater; there are so many in our community that need technology (and digital access) to make working from home, connecting with doctors online and receiving education remotely a possibility. We have been inundated with requests for technology grants.
 
Why is donating beneficial to your organization?
Corporate Social Responsibility is crucial in today's business world, and partnering with Free Geek allows your company to commit to social accountability - both locally and globally. Your CSR and PR Departments can proudly state that you support Free Geek's mission of Bridging the Digital Divide and technological sustainability for the better of the planet.
As a Corporate Partner you:
- help to create a digitally connected community
- not only help refurbish technology, but  give back to our community 
- provide access to low or no-cost computing devices and training
- help students, low-income families and charitable organizations access technology that they otherwise could not afford
- do your part to keep hazardous industrial e-waste out of landfills or worse
Reduce the barrier between those who have access to technology and those who don't!
What does the Free Geek model look like?
Free Geek runs on a model that points two problems back at one another to inspire innovative solutions. Below you will see the process of our organization from receiving technology, to refurbishment or recycling.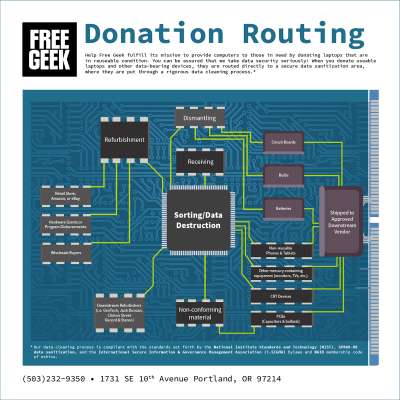 Quotes From Our Partners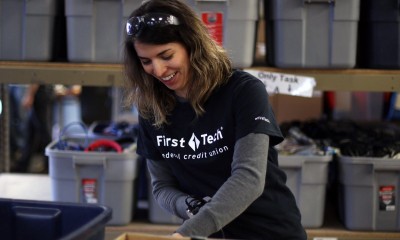 "We are so proud to be able to partner with Free Geek and their Plug into Portland program and to help empower the next generation to learn, grow and thrive." 
Nicole Frisch, Community Engagement Director, First Tech Federal Credit Union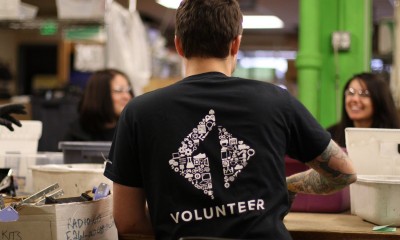 "People helping people, that's what we do. We are helping Free Geek to help the community." 
Tim Spencer, Desktop Support & Fee Geek Volunteer / First Tech Federal Credit Union
Your data is safe with us
At Free Geek, we take care to ensure the safety of your data-containing devices. Our data security promise extends to desktops, laptops, smartphones, tablets and all other data-containing devices.
Why choose Free Geek for data sanitization and destruction?
Data-bearing devices we receive are routed to our secure data area for data destruction.
National Institute Standards and Technology (NIST) SP800-88 data sanitization.
Strict adherence to the International Secure Information & Governance Management Association (i-SIGMA) bylaws and NAID membership code of ethics.
Certificate of Data Destruction available upon request (see below, some restrictions may apply).
What can your organization donate?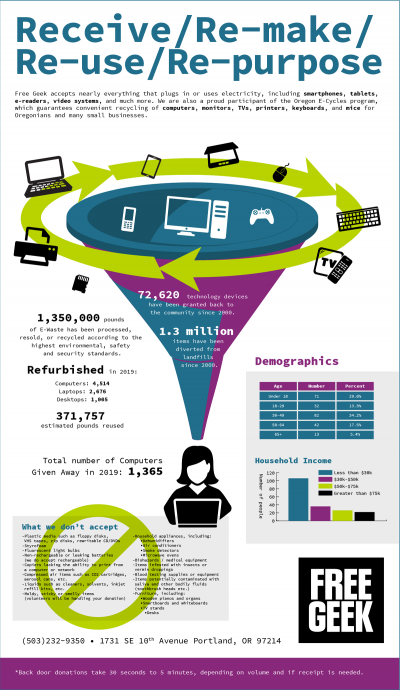 Free Geek accepts nearly everything that plugs in or uses electricity, including smartphones, tablets, e-readers, video systems, and much more. We are also a proud participant of the Oregon E-Cycles program, which guarantees convenient recycling of computers, monitors, TVs, printers, keyboards, and mice for Oregonians and many small businesses. Currently, we are mostly looking for laptops to provide for people in our community marginally affected by COVID-19.
What we don't accept
Plastic media such as floppy disks, VHS tapes, zip disks, rewritable CD/DVDs
Styrofoam
Fluorescent light bulbs
Non-rechargeable or leaking batteries (we do accept rechargeable)
Copiers lacking the ability to print from a computer or network
Compressed air items such as CO2 cartridges, aerosol cans, etc.
Liquids such as cleaners, solvents, inkjet refill kits, etc.
Moldy, sticky or smelly items (volunteers will be handling your donation)
Household appliances, including:

Dehumidifiers
Air conditioners
Smoke detectors
Microwave ovens

Biohazards / medical equipment

Items infested with insects or vermin droppings
Blood testing supplies or equipment
Items potentially contaminated with saliva and other bodily fluids (toothbrush heads etc.)

Furniture, including:

Wooden pianos and organs
Smartboards and whiteboards
TV stands
Desks
We don't require a fee specifically for our ITAD services, but we do have suggested monetary donation amounts for individual pieces of hardware. These contributions offset the cost & labor of screening and processing items for possible reuse.
 
What does the donation drop-off process look like?
Donating is simple, easy and safe by following these four steps:
- We are accepting donations (during limited hours) at our facility (1731 SE 10th Avenue). We will have collection bins set outside the warehouse entrance. Please be prepared to unload your own vehicle and form a line if needed. For the safety of our community, we ask that you wear a face covering and maintain a 6-foot distance from staff and other donors at all times. Staff will be available just inside (or at the open warehouse door). When filling out the form below, please insert best times to drop off your technology so we can best accommodate your need.
Need help transporting your donation? 
While you are always more than welcome to Drop-off your donations directly at our facility, Free Geek does provide a paid Pick-up service for businesses, nonprofits and residential customers throughout the Portland metro area.
We charge a standard fee of $120 for Pick-ups of accepted donation items. A check may either be given to our Driver with the donation or mailed to Free Geek. We can accept payments via credit card, or we can email an invoice to you. Should you opt to receive an invoice, please let us know who your Billing Contact is, so we can email them directly.
Will my employer receive a donation receipt?
We are happy to email you a receipt confirming your donation for tax purposes.