Join the Free Geek community
Want to learn how to build computers, save the environment from toxic e-waste, and transform the lives of people in your community? We have a place for you here at Free Geek!
Free Geek volunteers are the driving force behind our mission. Our volunteers make a difference by disassembling computers for recycling, sorting equipment from donors, and much more.
As a volunteer, you'll receive:
Who can volunteer?
We encourage people of all ages, backgrounds, and areas of interest to get involved at Free Geek.
No computer experience is required
Our facility is mostly ADA-accessible
We are sensitive to and can work with people with different abilities
We only require that volunteers be able to follow instructions and that those under 16 years old are accompanied by an adult who can work alongside them. Whatever your reason for donating your time, we'd love to welcome you to the Free Geek community.
Interested in bringing a group to volunteer? Please submit a request online. 
What do volunteers do?
At Free Geek, we are proactive in creating an accepting community that provides meaningful opportunities for all. 
Recycling Volunteer Shifts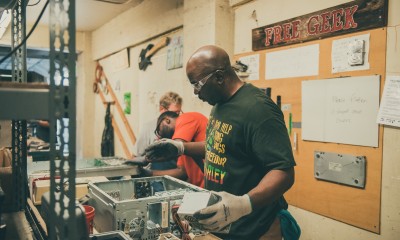 Recycling Bench
Disassembling desktop systems for recycling.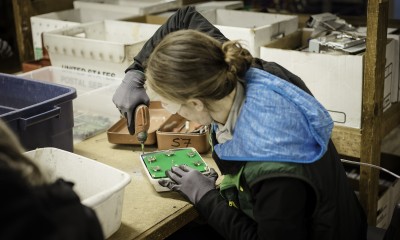 Recycling Table
Disassembling smaller electronics for recycling.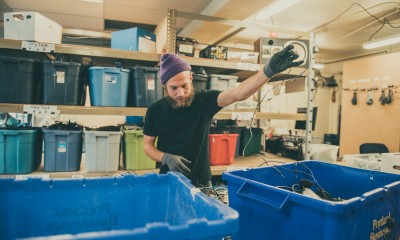 Sorting Table
Sorting and moving around incoming items.
Become a Volunteer Instructor
Passionate about technology and learning? Our curriculum centers around computer hardware, digital privacy and safety, and basic training in software, creative media, programming, and open source. If that sounds like a match with your expertise, consider volunteering as an instructor!
Reuse Volunteering
The Reuse Volunteer Program concluded in August 2018. Free Geek launched a new education program, TECHS Academy, in October 2018 to better serve our curious community of learners! 
How to volunteer
Read and agree to follow our General Conduct Guidelines.
Take a 30 minute volunteer orientation tour, offered at 11am and 4pm on Tuesday through Saturday. Please arrive 10 minutes early to fill out paperwork.
Schedule up to two shifts at a time during Free Geek's open hours.
Be prepared to check your bag with the front desk staff. 
Requirements to volunteer
Individuals under 16 year of age must have an adult with them while volunteering.
Individuals who are not legally able to be around children cannot volunteer at Free Geek.
Individuals with restraining orders against them may not be able to volunteer at Free Geek, depending upon the situation. Please check with a staff member about your situation.
Court-ordered community service not related to theft or violent crime can be done in Free Geek's recycling center. Please bring all relevant paperwork and court documents with you for the tour.
I saw the most diverse students and volunteers learning and working together at Free Geek. (Thank you!)

Stephanie Pino-Heiss, volunteer
Want to level up your skills even more?
Free Geek offers a variety of competitive and challenging internships for those who have the time, interest, and motivation to work outside the scope of our main volunteer program.